GENEALOGICAL RECORDS of THE CHOATE FAMILY
& RELATED FAMILIES
compiled by Orlean Choate
Revised Jan 1966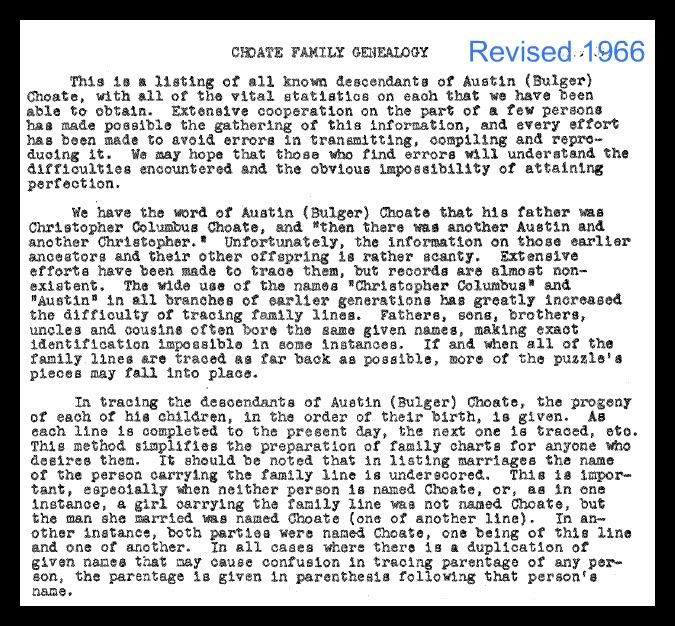 GENEALOGICAL RECORDS OF THE CHOATE FAMILY & RELATED FAMILIES 2011 UPDATE
For many years there have been many people researching the Choate line, and the research is just amazing. I first came across the research of the Choate line, when my mother in law Emma Lee Smith, gave me a written family history for her mother, Alma Choate Smith in 1988. It was entitled "Genealogical Records of The Choate Family and Related Families" compiled in January 1966 by Orlean Choate. In the first page, we see that it is written that "we have the word of Austin Bulger Choate that his father's name was Christopher Columbus Choate."
As we see in a different research project, so meticulously done, it is written that Austin Choate and Naomi Pyburn were Austin Bulger Choates parents. Ref:
http://genforum.genealogy.com/choate/messages/1722.html
It is my belief that this is more correct, not to say that the Jan 1966 (Revision) goes unnoticed, but genealogical research in 1966 was so much more difficult then than it is now. It is with the advent of public records being more readily available via the internet, and with family history computer programs, and the widespread interest of family history, that facts become more clear.
I begin this research project with Austin Bulger Choate and Mary Ann Polly Barnes and follow along with the January 1966 written project for the purpose of updating it and bringing to life, the dates and information contained therein. Like with any other research project, perfection is unattainable, but the intentions are to be as factual as possible. I ask for you to enjoy reading, contributing and understanding that this has been a project in mind for nearly 30 years.
---
THIS WEBSITE IS PART OF AN ONGOING UPDATE OF THE 1966 COMPILATION WRITTEN BY ORLEAN CHOATE ENTITLED "GENEALOGICAL RECORDS OF THE CHOATE FAMILY AND RELATED FAMILIES". PLEASE FEEL FREE TO CONTACT ODIELION@GMAIL.COM IF YOU HAVE ANY CORRECTIONS, SUGGESTIONS OR CONTRIBUTIONS. TO VIEW THE ENTIRE WEBSITE, PLEASE GO TO WWW.CHOATESOFTENNESSEE.WEEBLY.COM . THANK YOU AND HAVE A GLORIOUS TIME VISITING.