Family of Austin Bulger Choate and Mary Ann Polly Barnes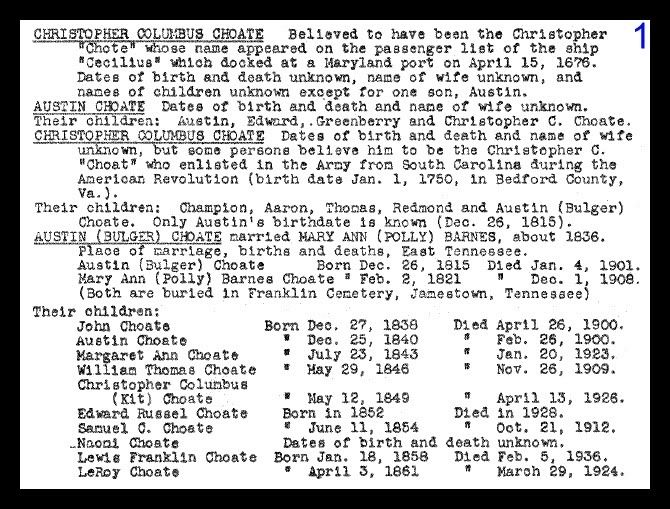 Notes: In the additional genealogical research of the Austin Bulger Choate family, the discovery of the "unknowns" have been quite the adventure. Notice below, that the birthdate and date of death for Naomi Choate has been discovered, as well as the birthdate of Edward Russell Choate. On the 1860 Census, a daughter named Josephine shows up as having been born about 1850, so instead of the 10 children listed in the Jan 1966 Revision, we have 11 children. She does not appear on the 1870 Census, she either passed away before the 1870 census, or left home and got married leaving no trace of her. Other discoveries made are of Samuel C. Choate - his birthdate being different than that shown in the Jan 1966 Revision. For this entire family group, all the graves have been located, and in some instances, actual photographs.
THIS WEBSITE IS PART OF AN ONGOING UPDATE OF THE 1966 COMPILATION WRITTEN BY ORLEAN CHOATE ENTITLED "GENEALOGICAL RECORDS OF THE CHOATE FAMILY AND RELATED FAMILIES". PLEASE FEEL FREE TO CONTACT ODIELION@GMAIL.COM IF YOU HAVE ANY CORRECTIONS, SUGGESTIONS OR CONTRIBUTIONS. TO VIEW THE ENTIRE WEBSITE, PLEASE GO TO WWW.CHOATESOFTENNESSEE.WEEBLY.COM .